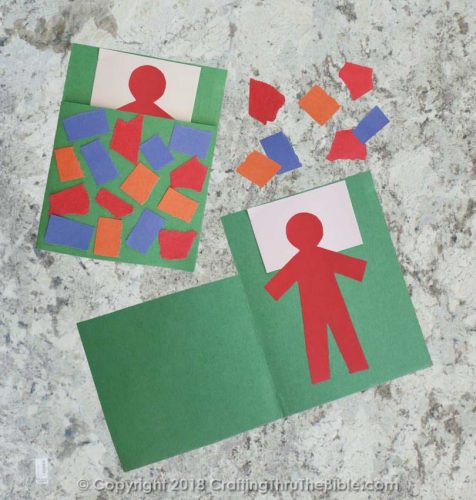 Kiddos will have fun decorating Samuel's bed then playing with the Samuel figure to retell the story of how God called Samuel and how Samuel listened. God may not speak to us in an audible voice but He does speak through His words in the Bible and through others like parents and teachers. Aren't you glad he gave us the Bible and Christian community?
PREPARE:
Bed: Cut bed out of

construction paper, any color but white

(template below) then fold along indicated line
Quilt: Tear

various colors of construction paper

into 1″ wide strips
Pillow: Cut 3″ x 1-3/4″ rectangle out of

white construction paper

Samuel: Cut boy figure out of

cardstock or construction paper

(template below)
Print or write the Bible/lesson point onto a

1″ x 2-5/8″ address label (Avery 8160) or paper
PROVIDE:
PRODUCE:
Glue pillow to the portion of the inside bed that when folded is exposed (see picture)
Tear the paper strips into smaller pieces then glue to the front of Samuel's bed to decorate his quilt.
Adhere the Bible/lesson point to the craft.
Encourage the children to have fun retelling the Bible story with their Samuel figure and bed.
PRINT:
Print making sure the image takes up the entire sheet and doesn't get scaled. Here are some properties you may see in the print dialog:
DO NOT "Fit to page" or "Shrink to fit"
Select "Fill Page", "Actual Size", or make sure Scale is set to 100%
"Borderless Printing" should be ON, or make sure there are no margins set
Select "Auto Portrait/Landscape" or make sure the image is not sideways on the page