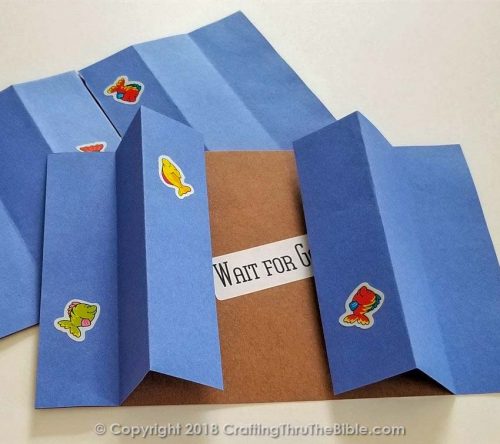 Bible Lesson: Moses Parts the Red Sea
Passage: Exodus 11:1–12:36
PREPARE:
9″ x 6″ (1/2 sheet) 

brown construction paper

2 pieces of 6″ x 4-1/2″ (1/4 sheets)

blue construction paper

, accordion-folded lengthwise into thirds

Fish stickers

, 4-6 per child
Print or write the Bible/lesson point onto a

1″ x 2-5/8″ address label (Avery 8160) or paper
PROVIDE:
PRODUCE:
Put glue onto an outer third of the blue construction paper and attach it along one edge of the brown construction paper (see sample).
Repeat with the other blue piece on the opposite edge of the brown paper.
Adhere the fish stickers to the top of the blue paper (water) of the craft.
Adhere the Bible point to the brown paper, under the "water".
Let the children play with the craft by flattening the "water" to close the sea. Then have them shout out the Bible/lesson point then part the sea and walk their fingers down the parted sea to the other side.