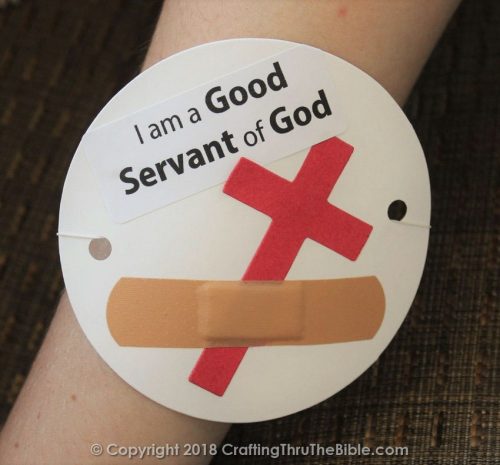 Children will have fun wearing this piece of art. It's an armband to help them remember to help others just like the Samaritan did in the Parable of the Good Samaritan (Luke 10:25-37).
PREPARE:
Cut 4″ circle (template below) from

cardstock paper

, punch holes on opposite sides and string

elastic thread

 (or pipe cleaner) through the holes then size to child's arm
Cut one cross out of

red construction paper

using "Cross B" template (below)
Take

5/8 x 2-1/4″ adhesive bandage

out of it's wrapper
Print or write the Bible/lesson point onto a

1″ x 2-5/8″ address label (Avery 8160) or paper
PROVIDE:
PRODUCE:
Glue the cross onto the armband
Stick the adhesive bandage onto the armband
Attach the Bible/lesson point onto the armband
As you help the children put their armbands on, encourage them to be a good servant of God just like the Samaritan was.
PRINT:
Print making sure the image takes up the entire sheet and doesn't get scaled. Here are some properties you may see in the print dialog:
DO NOT "Fit to page" or "Shrink to fit"
Select "Fill Page", "Actual Size", or make sure Scale is set to 100%
"Borderless Printing" should be ON, or make sure there are no margins set
Select "Auto Portrait/Landscape" or make sure the image is not sideways on the page